Be Beautiful No Matter What Your Age
Spa de Larissa's complete line of private label
Skin Care Products
contains fresh cells, essential oils, plant and fruit extracts that provides an innovative treatment that yields remarkable results. It is a new generation of cellular skincare. These luxurious products enriched with vitamins, minerals, protein, seaweeds, and other extensive varieties of botanical ingredients will rejuvenate and revitalize your skin. Products with far more than skin maintenance, are therapeutic and make your skin feel and look sensational!
Microdermabrasion. Advanced microexfoliation system that stimulates cellular regeneration of the skin, fades pigmentation marks and age spots, reduces wrinkles and scars, softens skin, blemishes and stretch marks.
Vita Lift – Electrolifting Nonsurgical Face Lift
This ultramodern device is specifically designed to offer sophisticated aesthetic care treatments. Professional aestheticians now have the ability to propose a wide range of high-performance and safe electro-lifting treatments with a computerized system.
By sending an electrochemical, bipolar microcurrent specifically targeting certain facial muscles, the signal initiates a gentle, muscular stimulation exactly as in normal exercise. This process helps restore vitality, strengthens muscles, and enhances blood circulation in order to produce a healthy and invigorating effect on the treated area. This is the cutting edge of aesthetic care with treatment possibilities and technology designed for 21-century women and men.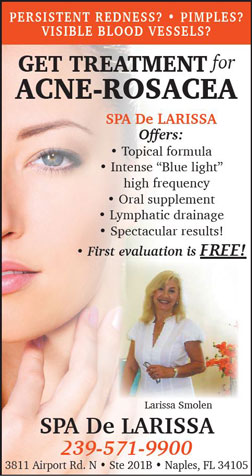 Airport Professional Center 3811 Airport Rd. North Suite 201B (Second Floor) Naples, Florida 34105
(Click for Directions)