Rosacea is a common facial skin condition affecting the face particularly the cheeks, nose, chin, and forehead. Also known as Acne Rosacea (Adult acne), it often looks somewhat like acne with redness, lumps, and swelling. At Facial Spa de Larissa, we cure Rosacea's condition with great success! Because acne-like pimples are a common symptom of rosacea, many people with rosacea mistakenly believe they have acne and they use the wrong beauty product. Larissa's skin care product is a unique formula for the mask, cream, and nutritional supplement food based pills with Betaine and herbs. This product shows that excellent results can be expected in 14 to 20 days.
We provide a free consultation with tips and tools for your specific condition of Rosacea and trigger factors that may cause your facial skin to flare up if you have Rosacea:
Suffering from anxiety and tension
Using wrong beauty product
Demodex mites
Nutrition
Extreme Temperatures, including Spas and Saunas
Medical evidence suggests Rosacea CAN be CONTROLLED and flare-ups reduced with good ongoing facial skin care and treatment.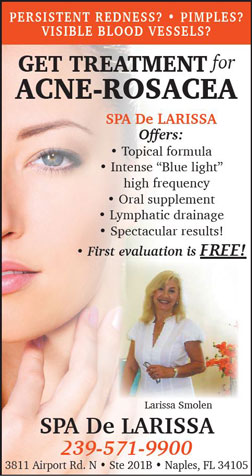 Airport Professional Center 3811 Airport Rd. North Suite 201B (Second Floor) Naples, Florida 34105
(Click for Directions)
We were featured in the SWFL Natural Awakenings Magazine for our Rosacea Treatments!
"Certain skin conditions of the face, such as rosacea, an autoimmune disorder that responds well to an anti-inflammatory diet, can pose a challenge. After many years in the beauty industry, Larissa Smolen, aesthetician and owner of Spa de Larissa, in Naples, created private-label professional products as a solution."