Be Beautiful No Matter What Your Age
Welcome to Facial Spa De Larissa
The fascinating world of skincare, spa & cosmetics keeps Spa de Larissa focused and dedicated to providing the best service possible to customers. Every client is V.I.P. That why all facial treatments start with the individualized consultation to create a program for your skin type. All facials are so much more than just a series of treatments. Each one is a unique experience from pure relaxation to a medically-based cure and skin repair and a result oriented procedure.
The spa concept is to show clients that treatments aren't a one-time thing; that skin improves with continued care.
You will learn everything you need to know about your skin, including
How to fight acne, wrinkles, sun damage, rosacea, and more.
What to do with broken blood vessels, unwanted hair, and more
The truth about vitamin K cream, C-Serum, AHAs, Collagen, Facial Peels, and Non-Surgical Face Lifts.
Please visit our menu of services to view our detailed list of treatments.
Facial Spa de Larissa gift certificates are available.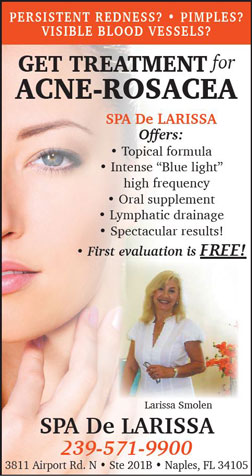 Airport Professional Center 3811 Airport Rd. North Suite 201B (Second Floor) Naples, Florida 34105
(Click for Directions)

"I've been struggling with Rosacea for several years and desperately looking for solutions only to get recommended antibiotics and harsh treatments that made it worse. Finding Larissa has been THE BEST gift my skin could have ever received. She knows skin and her skin is living proof. And now, so is mine. Today I received the first compliment ever on how amazing my skin looks! I loved it! I have Larissa to thank for that. She is an angel!"
"Spa De Larissa is, by far, the best experience I've had with ANY aesthetician! Even after my initial visit (nearly 2 years ago) the appearance, texture and genuine general health of my skin was markedly improved. I had discouraging, painful and rude interactions with aestheticians in (and out of) dermatologists offices – with little, no or worse results before finding Spa De Larissa. Now, I look forward to having my facial services and continue to have beautiful and healthy skin ~ Larissa is the Angel that has changed my life. Honestly, I refuse to allow any aesthetician to perform any services to me other than Larissa. Larissa is truly the BEST – worldwide!"